FREE Shipping on all orders over $75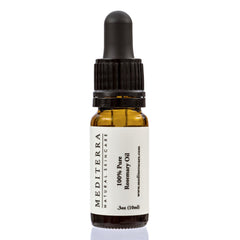 FOR CENTURIES, ROSMARINUS OFFICINALIS HERB OF THE MEDITERRANEAN HAS BEEN USED BOTH IN LOCAL CUISINE AND AS A MEDICINE. COMMONLY KNOWN AS ROSEMARY, THIS HERB CONTAINS AN ARRAY OF BENEFICIAL COMPOUNDS THAT HAVE NOW BEEN CLINICALLY PROVEN TO ADDRESS MEDICAL CONCERNS AND IMPROVE OVERALL WELL-BEING.
NO MATTER HOW YOU INTEND TO BENEFIT FROM ROSEMARY, MEDITERRA ROSEMARY ESSENTIAL OIL IS THE BEST WAY TO EXPERIENCE THE PROPERTIES OF THIS INCREDIBLE HERB. OUR ESSENTIAL OIL IS OF TRUE THERAPEUTIC GRADE, MAKING IT SUITABLE FOR ANY USE IMAGINABLE. NEVER DILUTED AND COMPLETELY FREE OF ADDITIVES AND PRESERVATIVES, OUR ESSENTIAL OIL IS 100 PERCENT PURE AND MADE FROM THE FINEST INGREDIENTS TO MAKE IT AS POTENT AS POSSIBLE.

EXPERIENCE THE REMARKABLE HEALTH AND BEAUTY BENEFITS OF ROSEMARY FOR YOURSELF. ORDER MEDITERRA ROSEMARY ESSENTIAL OIL TODAY
 ANALGESIC. ROSEMARY IS BELIEVED TO EASE HEADACHES AND MANY OTHER TYPES OF PAIN.

 ANTIBACTERIAL. ROSEMARY IS OFTEN USED TO FIGHT INFECTIONS. IT IS ALSO A COMMON ORAL RINSE FOR FIGHTING THE BACTERIA THAT CONTRIBUTE TO GUM DISEASE.

 ANTIFUNGAL. ROSEMARY CAN BE USED TO LIMIT THE GROWTH OF FUNGUS AND YEAST AND IS ESPECIALLY EFFECTIVE AS A REMEDY FOR DANDRUFF.

 ANTISEPTIC. ROSEMARY PURIFIES THE SKIN AND IS OFTEN USED FOR FIRST AID, ADDRESSING ACNE BREAKOUTS AND CLARIFYING OILY SKIN.

 ANTI-INFLAMMATORY. ROSEMARY REDUCES INFLAMMATION, MAKING IT A COMMON REMEDY FOR SKIN CONDITIONS LIKE ECZEMA AND PSORIASIS AND FOR CHRONIC PAIN.

HAIR GROWTH AID. ROSEMARY IS BELIEVED TO ENERGIZE THE SCALP TO SUPPORT HEALTHY HAIR GROWTH.

 STRESS RELIEF AID. MANY PEOPLE FIND THAT THE SCENT OF ROSEMARY EASES TENSION AND ANXIETY.

*These statements have not been evaluated by the Food and Drug Administration. This product is not intended to diagnose, treat, cure, or prevent disease.