FREE Shipping on all orders over $75
French Lavender essential oil 10ml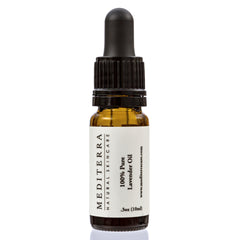 LAVENDER IS ONE OF THE MOST BEAUTIFUL WILD FLOWERS THAT IS NATIVE TO THE MEDITERRANEAN REGION. AS PLEASING TO SMELL AS IT IS BEAUTIFUL TO BEHOLD, LAVENDER HAS LONG BEEN USED AS AN AROMATHERAPEUTIC AID, AND THE OIL THAT IS PRODUCED BY DISTILLING ITS FLOWERS HAS BEEN SHOWN TO HAVE A NUMBER OF BENEFICIAL PROPERTIES WHEN APPLIED TO THE SKIN OR TAKEN INTERNALLY
NOW, YOU CAN EXPERIENCE ALL OF THE BENEFITS OF LAVENDER OIL TO THE FULLEST WITH MEDITERRA LAVENDER ESSENTIAL OIL. OUR THERAPEUTIC GRADE ESSENTIAL OIL IS SUITABLE FOR ANY USE AND IS SOURCED FROM THE SOUTH OF FRANCE, WHICH IS KNOWN THROUGHOUT THE WORLD AS HAVING SOME OF THE FINEST LAVENDER FIELDS. OUR ESSENTIAL OIL IS 100 PERCENT PURE WITH NO ADDITIVES OR PRESERVATIVES OF ANY KIND, AND WE NEVER DILUTE IT, ENSURING THAT EVERY DROP IS AS POTENT AND POWERFUL AS POSSIBLE.

 SOOTHE YOUR SENSES OR EXPERIENCE THE HEALING, THERAPEUTIC PROPERTIES OF LAVENDER OIL WITH THE BEST QUALITY ESSENTIAL OIL ON THE MARKET TODAY. ORDER MEDITERRA LAVENDER ESSENTIAL OIL NOW.
SPECIFICALLY, LAVENDER OIL IS BELIEVED TO BE A/AN:
- ANTI-INFLAMMATORY. WHEN USED TOPICALLY, LAVENDER HELPS TO EASE SKIN IRRITATION, MAKING IT A COMMON REMEDY FOR ACNE, ECZEMA, PSORIASIS, SKIN SENSITIVITY AND OTHER CONDITIONS MARKED BY INFLAMMATION. THE OIL CAN ALSO BE USED TO SOOTHE MUSCLE ACHES AND PAINS.

- ANTIOXIDANT. COMPOUNDS IN LAVENDER OIL DEFEND THE SKIN AND ORGANS FROM OXIDATION CAUSED BY FREE RADICALS, PROMOTING HEALTHY AGING AND REDUCING THE RISK OF SOME FORMS OF CANCER.
- BLOOD GLUCOSE REGULATOR. RESEARCH SHOWS THAT LAVENDER OIL HELPS THE BODY BETTER REGULATE BLOOD SUGAR LEVELS AND IMPROVES RESPONSE TO INSULIN.
- HEADACHE PAIN RELIEVER. LAVENDER OIL IS COMMONLY USED AS A REMEDY FOR HEADACHES, ESPECIALLY THOSE CAUSED BY TENSION AND STRESS.
- HEALING AGENT. STUDIES HAVE SHOWN THAT APPLYING LAVENDER ESSENTIAL OIL TO SKIN WOUNDS AND BURNS ACCELERATES THE HEALING PROCESS.
- RESPIRATORY AID. INHALING LAVENDER OIL IS BELIEVED TO EASE RESPIRATORY PROBLEMS LIKE CONGESTION DUE TO COLDS, CHRONIC COUGHS AND ASTHMA.

LAVENDER IS ONE OF THE MOST COMMONLY USED NATURAL SLEEP AIDS, AS ITS SCENT HELPS TO CALM THE MIND AND ALLOW THE BODY TO DRIFT TO SLEEP.

- STRESS RELIEVER. LAVENDER OIL HAS BEEN SHOWN TO HAVE A CALMING EFFECT ON THE BODY AND IS OFTEN USED TO HELP PEOPLE MANAGE STRESS, RELAX AND CALM ANXIETY.