FREE Shipping on all orders over $75
Mediterra Pure Rose Toner Mist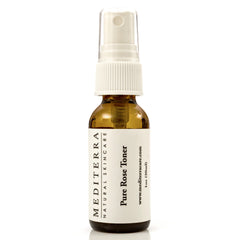 Rose Water has been used as a beauty treatment and skin toner in the Middle East for centuries. Mediterra Pure Rose Toner is made from Kelaa M'Gouna in Morocco, the home of the best roses. The roses are steam distilled to produce rose essential oil and rose floral water is a byproduct of this distillation process. Mediterra Pure Rose Toner uses the rose floral water to create a natural and organic skin toner.

-HAS A SOOTHING AND CALMING AROMA
-CLEANSES THE SKIN, HYDRATES IT AND HELPS IN REGENERATION OF SKIN CELLS
-REMOVES DARK CIRCLES.
-IS AN EXCELLENT MAKE UP REMOVER
-IS 100% NATURAL PRODUCT AND CONTAINS NO PARABENS, MINERAL OILS, ALCOHOL OR ANY CHEMICAL AGENT AND HAS NOT BEEN TESTED ON ANIMALS.
SPRAY ON FACE TO REFRESH AND MOISTURIZE SKIN.
REMOVE MAKE-UP AND CLEANSE FACE.
POUR COLD ROSE TONER ON TWO COTTON PADS AND PLACE ON CLOSED EYES TO SOOTH, RELAX, AND DIMINISH THE APPEARANCE OF DARK EYE CIRCLES.
ENJOY OUR ROSE TONER IN YOUR BATH.
INGREDIENT: DAMASCENA FLOWER WATER (ROSE FLORAL WATER)