FREE Shipping on all orders over $75
Mediterra Moroccan Black Soap 5.2oz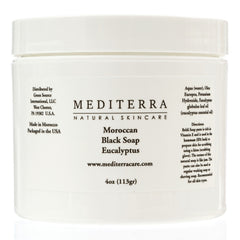 For centuries, women have used natural black soap to purify their faces and body skin and promote a more beautiful appearance. Now, you can discover the benefits of this ancient beauty secret with Mediterra Moroccan Black Soap.
Made from 100 percent natural ingredients, Mediterra Moroccan Black Soap has a number of benefits for the skin. 
Mediterra Moroccan Black Soap can be used like any conventional washing soap for the face and body. You can also use it with a scrubbing glove for deep exfoliation to recreate the treatments performed at Middle Eastern spas.
Improve the texture and appearance of your skin while thoroughly cleansing it from head to toe! Order Mediterra Moroccan Black Soap today.
- Cleanses. As you massage the soap against your skin, it lathers to remove excess skin oils, dirt, sweat and other impurities that can clog your pores. The soap is free of chemical surfactants that can cause irritation, making it a gentle choice for all skin types.
- Detoxifies. Nutrients found in the Mediterra Moroccan Black Soap liberate impurities from the pores and toxins from the skin to improve the overall health of the tissue.
- Exfoliates. The unique texture of the Mediterra Moroccan Black Soap paste allows the natural cleanser to gently lift away dead skin, promoting smoother, softer tissue from head to toe and eliminating skin flakes.
- Moisturizes. Unlike other soaps, Mediterra Moroccan Black Soap hydrates while it cleanses. As a result, this gentle soap won't dehydrate the skin tissue and is safe for those with naturally dry skin.
- Firms. Mediterra Moroccan Black Soap improves skin elasticity, leaving the tissue suppler. With regular use, the soap can diminish fine lines and wrinkles.
- Protects. Vitamin E present in the Mediterra Moroccan Black Soap acts as an antioxidant to reduce cellular oxidative damage due to free radicals that gives rise to signs of aging.
This natural therapeutic Black Soap from Morocco is made from 100% virgin black olive oil. To use, apply in the shower to damp skin. Use an exfoliating scrub glove, and scrub your whole body head to toe. After you are done scrubbing, rinse with water to remove all soap. You will be left with exceptionally soft skin.