FREE Shipping on all orders over $75
Prickly Pear Honey Sakura Body Scrub 4oz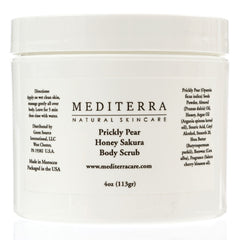 A Moroccan oil, Prickly Pear is a relatively new beauty oil whose benefits have been recognized in the last decade or so. Prickly Pear is packed to the brim with antioxidants that can help your skin become more nourished and hydrated, allowing your skin to become healthier overall.
The Mediterra Prickly Pear Honey Sakura Body Scrub exfoliates and removes any dead skins cells, making it the perfect way to get all of these antioxidative benefits delivered to the fresh, new skin of your entire body. With its honey and sakura components, your skin will feel smooth and refreshed and will retain a pleasant lingering scent.
Full of antioxidants, the Mediterra Prickly Pear Honey Sakura Body Scrub reacts against free radicals in the environment that can cause premature aging of the cells, manifesting itself as dull skin that has lost its luster and forms wrinkles and fine lines. The skin can quickly absorb the beneficial compounds of the Prickly Pear Honey Sakura Body Scrub before you rinse the scrub away, allowing you to clear out dead skin cells as you exfoliate while also penetrating the skin deeply to provide you with these long-lasting antioxidant benefits that brighten, soften and smooth out the skin.
Mediterra Prickly Pear Honey Sakura Body Scrub can also at once tighten up your pores and help skin regain its elasticity through these antioxidants. The high linoleic acid concentrations also nourish your skin, providing deep hydration of the newly exposed skin cells after exfoliation without leaving behind a greasy residue when you rinse if off that would otherwise clog the pores. This makes it perfect for the removal of dead skin cells not only from dry, mature skin but sensitive skin as well.
Totally organic, the Prickly Pear Honey Sakura Body Scrub contains no parabens, animal ingredients, silicone, mineral oil or colorants and is not tested on animals. Great for your body and great for planet Earth, there is no reason why you shouldn't be ordering the Mediterra Prickly Pear Honey Sakura Body Scrub now!
Apply on wet clean skin, massage gently all over body. Leave for 5 min then rinse with water.

PRICKLY PEAR (OPUNTIA FICUS INDICA) SEEDS POWDER, ALMOND (PRUNUS DULCIS) OIL, HONEY, ARGAN OIL , (ARGANIA SPINOSA KERNEL OIL), STEARIC ACID, CETYL ALCOHOL, STEARETH 20, (PARKII) SHEA BUTTER, BEESWAX (CERA ALBA), FRAGRANCE (SAKURA CHERRY BLOSSOM OIL).