FREE Shipping on all orders over $75
Rose Argan Honey Face Scrub 2oz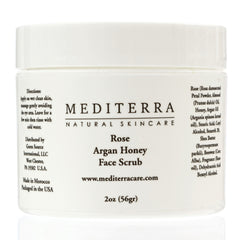 Argan oil is a Moroccan oil that is an excellent choice for those who want to improve their skin, hair and nails. Primarily, argan oil is beneficial for the skin, able to absorb quickly to nourish, exfoliate dead skin cells and help stop acne from forming. The Mediterra Rose Argan Honey Face Scrub is a blend of argan oil, honey and delightful rose oil that will leave your face feeling renewed, soft, smooth and pleasantly scented.
The Mediterra Rose Argan Honey Face Scrub works excellently as a facial moisturizer as well as a powerful exfoliator. It absorbs quickly into the skin so that after you scrub away the dead skin cells from your face, the argan oil continues to work its magic by leaving behind only the beneficial ingredients for your new skin. The natural, organic compounds found in the face scrub can also work to stop acne from popping up as these compounds help to rebalance the oil and sebum that the skin produces as well as decreasing the production of pore-clogging bacteria.
Naturally full of vitamin C, the argan oil in the Mediterra Rose Argan Honey Face Scrub can brighten the skin and help fight against free radicals in the environment that are often responsible for premature aging of the cells, which can result in the formation of fine lines and wrinkles. Stop these signs of aging where they stand with a bottle of Mediterra Rose Argan Honey Face Scrub.

Completely organic, the Mediterra Rose Argan Honey Face Scrub is free from mineral oils, colorant, parabens, silicones and animal ingredients. Not only is this scrub excellent for your skin, it won't harm the environment and is not tested on animals. Everyone can benefit from Mediterra Rose Argan Honey Face Scrub, so order yours today.
 Apply on wet clean skin, massage gently avoiding the eye area. Leave for few min then rinse with cold water.
ROSE (ROSA DAMACENA) PETAL POWDER, ALMOND (PRUNUS DULCIS) OIL, HONEY, ARGAN OIL , (ARGANIA SPINOSA KERNEL OIL), STEARIC ACID, CETYL ALCOHOL, STEARETH 20, (PARKII) SHEA BUTTER, BEESWAX (CERA ALBA), FRAGRANCE (ROSE OIL), DEHYDRACETIC ACID BENZYL ALCOHOL.